Wheelthrowing & Empty Bowls club
Students who attend Wheel Throwing Club can learn basic throwing skills from student mentors during the month of September. With those skills, students should be able to create vases and bowls. As the year progresses, interested students will create bowls for the Empty Bowls Project and Community Dinner in February. Leadership for the Empty Bowls Project comes from the experienced wheel throwing club members, and committee members often become next year's leadership. Interested students should be able to work cooperatively with others, and Empty Bowls Project volunteers should be willing to work long volunteer hours and fun doing so! While all students are welcome, we are limited to the equipment we have in the classroom. Due to limited equipment, students currently enrolled in classes have seating priority.Each year, the leadership team determines other club events such as: skill demonstrations, field trip, teacher appreciation, etc.

click here to see photos of Empty Bowls Project
Powered by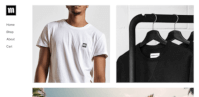 Create your own unique website with customizable templates.